Welcome to the John Anthony Vineyard Blog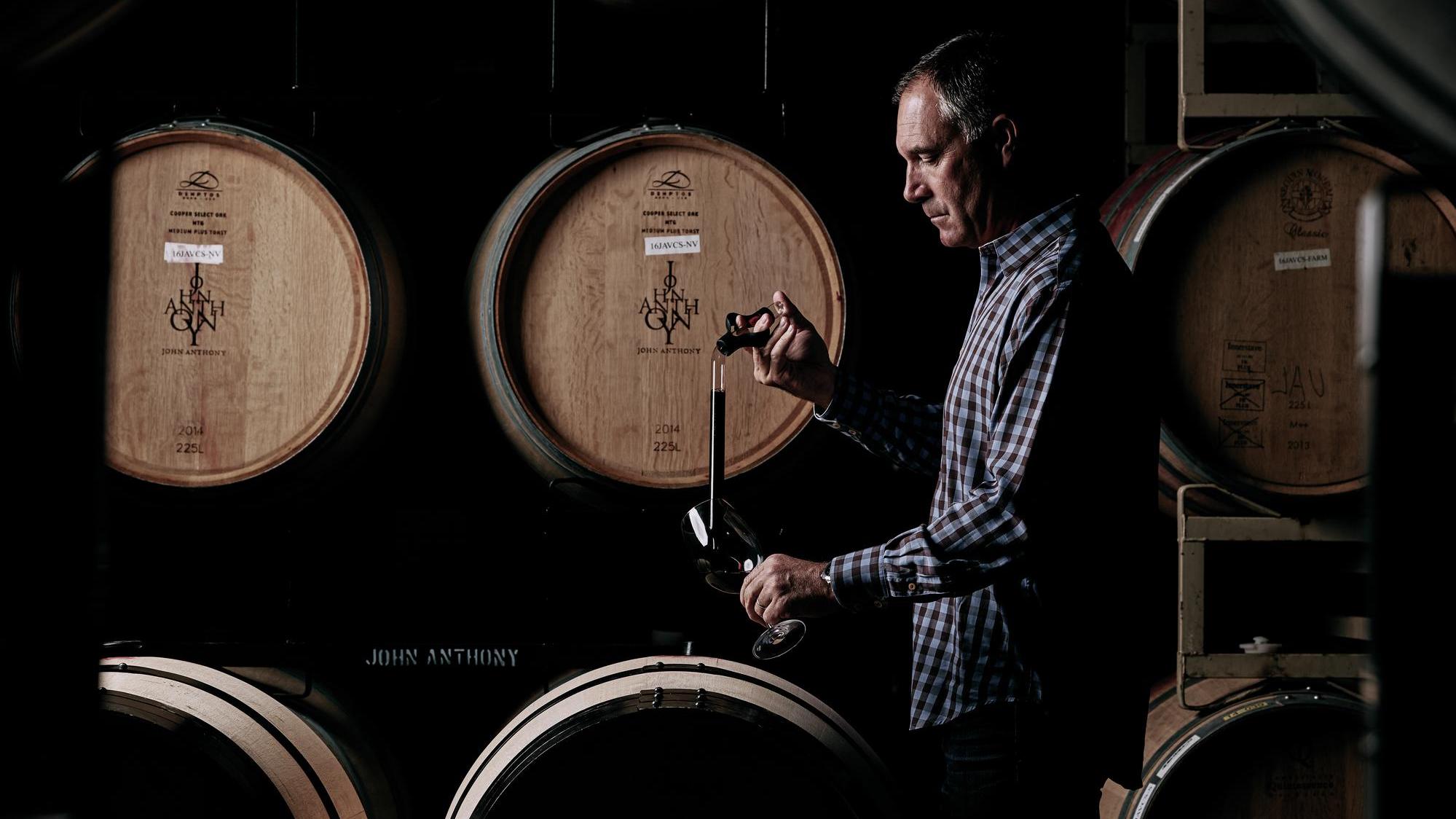 A Varietal Legacy
As we draw near to the 20th anniversary year of John Anthony Vineyards, we reflect on the signature grape varietal that is not only synonymous with Napa Valley, but also with our handcrafted wines: Cabernet Sauvignon.
Patience & Vision
Our story begins when second-generation Napa Valley winegrower John Anthony Truchard struck out on his own to create an exclusive namesake boutique winery. His quest was founded on vision and patience—two qualities that he'd always admired in the region's great winemaking pioneers, including Robert Mondavi, André Tchelistcheff, Mike Grgich, Dan Duckhorn Larry Hyde and his father Tony Truchard.
John knew this would not happen overnight. And although his vision was clear, resources were limited. The first step came when John leased Twisted Oak Vineyard, the first of what would ultimately become four John Anthony Cabernet Sauvignon estates in the Oak Knoll District.
With just six acres of vines nestled on the steep hillside of Mount Veeder, Twisted Oak's terroir provided everything John needed to produce a quintessential hillside Napa Valley Cabernet Sauvignon. Here, sun exposure varies with the contours of the land, imparting natural inflections to the fruit. The soil is clay loam over fractured shale. Yields are naturally moderate; small berries deliver purity of fruit, aromatic complexity and broad structure.
With the acquisition of Twisted Oak Vineyard, John's new calling became tangible, with Cabernet Sauvignon leading the way.
Essential Estates
Cabernet Sauvignon was a natural focal point for John from the start: the global "king of varietals," and the calling card of Napa Valley the world over.
Working on his family's wine estate in Carneros, John had personally witnessed Napa Valley Cabernet Sauvignon's ascent to the upper echelons of world-class wines. John's vision included putting his own stamp on this noble varietal, his name on the bottle and creating a following for "John Anthony Cabernet Sauvignon." The very first vintage received a 93-point rating by Wine Spectator—the wine sold out quickly and so the John Anthony Vineyards journey began.
Coombsville Vineyard followed Twisted Oak as John's next first-growth Cabernet Sauvignon estate. He saw immense potential in this tiny four-acre site years before the Coombsville sub-AVA was officially recognized. Here, John chose to practice "dry farming" without supplemental irrigation. This prompts the vine roots to run deep in search of moisture, ultimately creating more minerality in the wine.
Following in the footsteps of the Valley's original winegrowers, John also head-trained the vines to help them conserve energy for the long slow growing season for which this nested AVA has become known. This form of trellising allows the vines to collect more energy from the sun. Together, dry farming and head training help balance all aspects of the terroir, producing judiciously stressed vines whose fruit is rich, complex and expressive of place.
Today, John Anthony's Cabernet Sauvignon estates also include Calistoga Vineyard, Epps Vineyard, GnR Vineyard and R/D Vineyard. Collectively, these estates serve as the foundation of the John Anthony experience, all grown to John's meticulous standards and vision.
Handcrafted Exclusives
Each year, these Cabernet Sauvignon estates produce John Anthony's most coveted luxury, fine wines: the small-batch vineyard designates; the ultra-limited John Anthony Reserve composed of the best Cabernet lots from each vintage; and the pinnacle of our Cabernet Sauvignons, "The ONE." This singular Cabernet Sauvignon is handcrafted from just a single barrel deemed to be the finest of them all. "The ONE" is an estate exclusive available only on allocation to LIST members.
Napa Valley's Cabernet Season
As the vines become dormant, the weather cools and the evenings draw in, the recent vintage Cabernet Sauvignons are finishing up their fermentations and extended macerations. Locally we call this "Cabernet Season," and it is the perfect time to visit the John Anthony Tasting Lounge in downtown Napa, and to taste our extensive Cabernet portfolio during this signature Napa Valley season.
Experience the world of John Anthony Cabernet Sauvignon—a legacy now 20 years in the making.