Welcome to the John Anthony Vineyard Blog

A NEW HIGH BAR FOR THE NEXT 20 YEARS.
John Anthony Vineyard's 20th anniversary year is coming to a close. We set the bar high with a year of special releases, memorable dinners, and outstanding events that celebrated two decades of heritage, wine growing, and winemaking. Here's a little look back…and a teaser of what to expect as John Anthony embarks on our next chapter.
MORE VINEYARD-DESIGNATED RELEASES THAN EVER
John has devoted over two decades to crafting Napa Valley wines—uncovering hidden gem estates, selecting the precise varietals and clones to grow there, and optimizing each growing season. Time, patience, and consistency have paid off. Our 20th-anniversary releases brought 16 new releases to the John Anthony portfolio, with a special focus on vineyard-designate bottlings—greatly expanding our Cabernet Sauvignon program. Tasting single-vineyard Cabernet Sauvignon side by side in the new "Cab is King" tasting experience, brings appreciation for this noble varietal to another level. We invite you to join us here in downtown Napa.
The 2023 Spring Release included eight releases, including the striking 2019 John Anthony GnR Vineyard Cabernet Sauvignon and the 2019 John Anthony Epps Vineyard Cabernet Sauvignon, an ultra-limited from the smallest of John's Oak Knoll District vineyards. The 2023 Fall Release was followed by eight additional releases including the 2019 John Anthony Twisted Oak Vineyard Cabernet Sauvignon and the 2020 John Anthony Crane Vineyard Merlot, both vineyards in The Oak Knoll District that John has been farming for 20 years now.
A GROWING SEASON WORTHY OF CELEBRATION
This year brought a long and bountiful growing season. An unusually wet winter and early spring brought ample vine development. The moderate spring and summer with few heat spikes allowed for a gradual and gentle ripening period. Each key indicator (bud break, bloom, and veraison) occurred approximately two to four weeks later than usual, setting the tone for an unusually late harvest. Both the quality and yields we've seen are exceptional across all our estates and we are beyond excited to craft these wines over the coming months and years to eventually release them as John Anthony's 20th-anniversary vintage.
HISTORIC DINNER CELEBRATIONS
The 20th anniversary year was filled with a series of incredible new events, including nine Michelin-caliber dinners hosted at the historic John Anthony Church Vineyards. These remarkable culinary experiences featured passed appetizers, an amuse bouche, and a five-course seated dinner paired with an array of library offerings, spanning back to the inaugural 2003 vintages. These special dinners allowed us to bring together loyal patrons and friends, many of whom have borne witness to the first 20 years of our evolution. We look forward to continuing these in 2024 and invite you to learn more.
PHILANTHROPY AND FUN
In gratitude for 20 years of making beautiful wines here in Napa Valley, we brought John Anthony wines from the Tasting Lounge to various events across the country in support of important causes, and special interests. It was a gift to meet up with current LIST members and share our wines with new communities. It is a program we plan to continue—please enquire with the John Anthony wine education and hospitality team. We hope to see you at many of these events next year too.
BottleRock Napa Valley Platinum Lounge
Collective Napa Valley Barrel Auction
Aspen FOOD & WINE Classic
V Foundation Wine Celebration
Harvest STOMP
One Mind Music Festival
In a stunning culmination of celebrations, we closed out the year with the John Anthony Platinum Celebration hosting LIST members, our friends, family, partners, and team at the historic John Anthony Mansion. A magical evening from start to finish with La Dame Michele poured alongside The Caviar Co., gourmet food pairings, library pourings, a silent auction, platinum desserts, and dancing until late. It was an incredible evening to remember and possibly repeat… Join The LIST to be assured an invitation. Learn more.
Please look forward to news on upcoming releases, new estate announcements, events, and experiences here in your inbox and on Facebook and Instagram.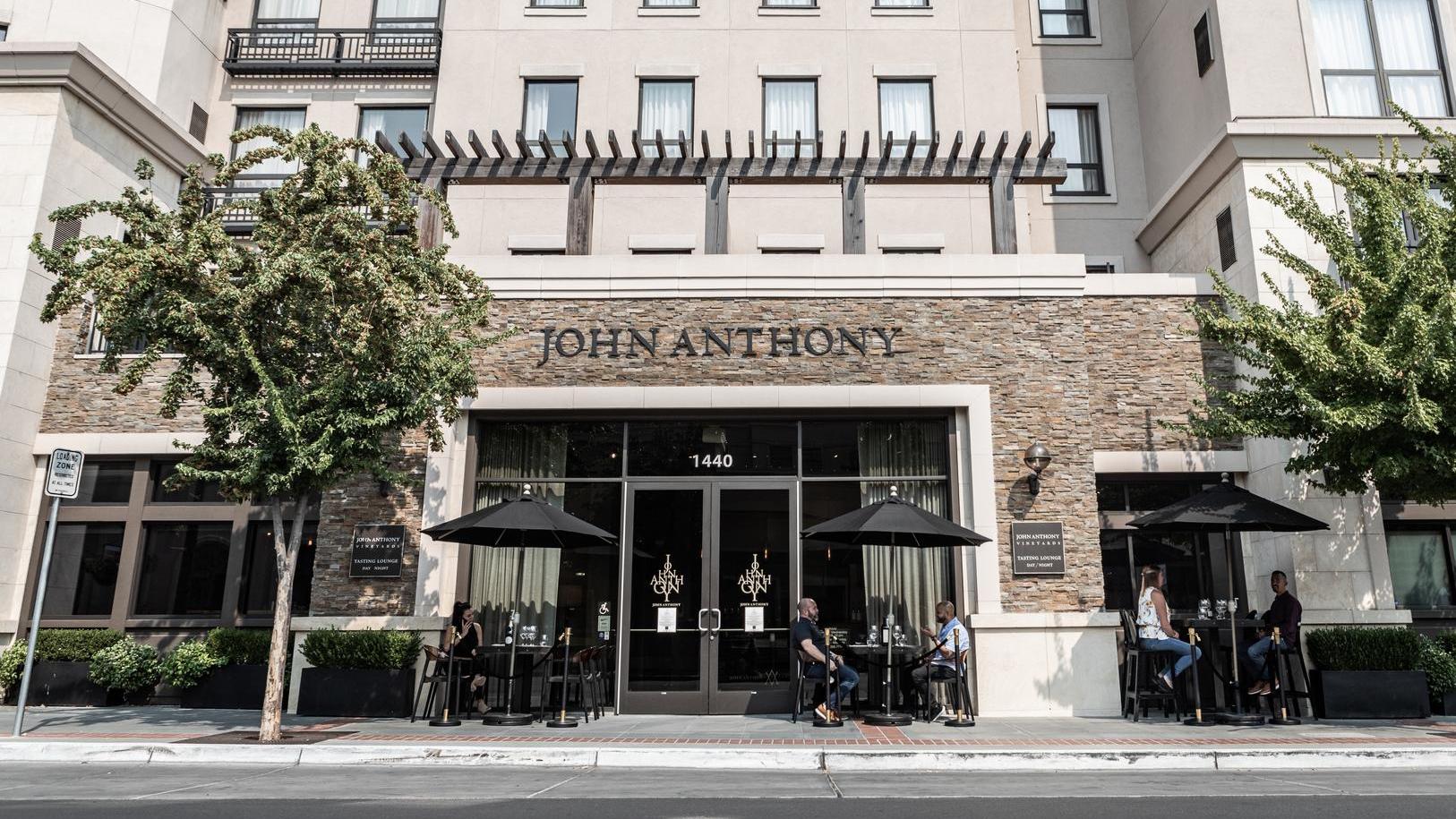 Following a busy and successful harvest, the John Anthony team is ready to celebrate the season. Please join us.
Napa is especially festive this time of year—a bustling downtown lights up darker chillier evenings. The John Anthony Tasting Lounge in the heart of downtown becomes a destination for locals and guests to enjoy the Cabernet Season and the Holidays that grace this time of year. This year we have curated our portfolio of wines into three rich and festive experiences that celebrate our heritage, estate winegrowing, and meticulous winemaking:
Cab is King Tasting
Cabernet Sauvignon is renowned in Napa Valley. Two decades of dedication to this noble varietal has awarded John Anthony an exemplary collection of this "king of wines"—all 100% Cabernet Sauvignon, small-lot, handcrafted wines. The Cab is King Tasting highlights the nuance of the vineyard and vintage Cabernet Sauvignon. First, enjoy a library "vertical" of Napa Valley AVA-designate Cabernets from the exceptional 2017 to 2019 vintages. This is followed by a "horizontal" flight of 2019 vineyard-designate Cabernets sourced from three of our estates from across the Valley.
Family of Wines Tasting
John Anthony Vineyards is the first label started by vintner, John Anthony Truchard. Venturing further afield to Sonoma Coast, Russian River, and Paso Robles, John sought out pockets of terroir to produce an expanded collection of releases. Weather Wines is a collection of Burgundian-varietal releases sourced from microclimates perfect for growing these sensitive and expressive grapes—Pinot Noir and Chardonnay. Wishlist was John's first foray into Paso Robles—taking advantage of the bio-diverse terroir of the region with a rosé of Tempranillo and Syrah. The tasting begins with the 2021 Wishlist Rosé, Paso Robles—bright and fragrant. Next take a journey through the expansive Sonoma County AVA with Weather Wines: 2020 Weather Sonoma Coast Chardonnay; enjoy side-by-side 2020 and 2021 vintages of Weather Sonoma Coast Pinot Noir; and finish up comparing the 2018 and 2019 Weather Chenoweth Vineyard Russian River Valley Pinot Noirs.
Caviar and Bubbles
There are select pairings that are undeniably festive. John Anthony's new partnership with The Caviar Co. takes this festive indulgence to new heights. Premier sustainable Kaluga hybrid caviar is presented decadently alongside the La Dame Michele sparkling wine program by John Anthony. A flight of three unique sparklings will be poured culminating in the ultra-limited, estate-grown 2017 La Dame Michele Single Vineyard Blanc de Blanc. Enjoy each luscious sip and bite paired with accoutrements to complement: A sidecar of kettle chips presented with house-made French onion dip garnished with fried shallots, pickled red onions, and onion powder.
The John Anthony Vineyards Tasting Lounge is the only downtown Napa tasting lounge to stay open late daily, until 10 p.m. on weekdays and midnight on Thursday through Saturday. Join us during the holiday season and experience the magic of the Holidays in Napa.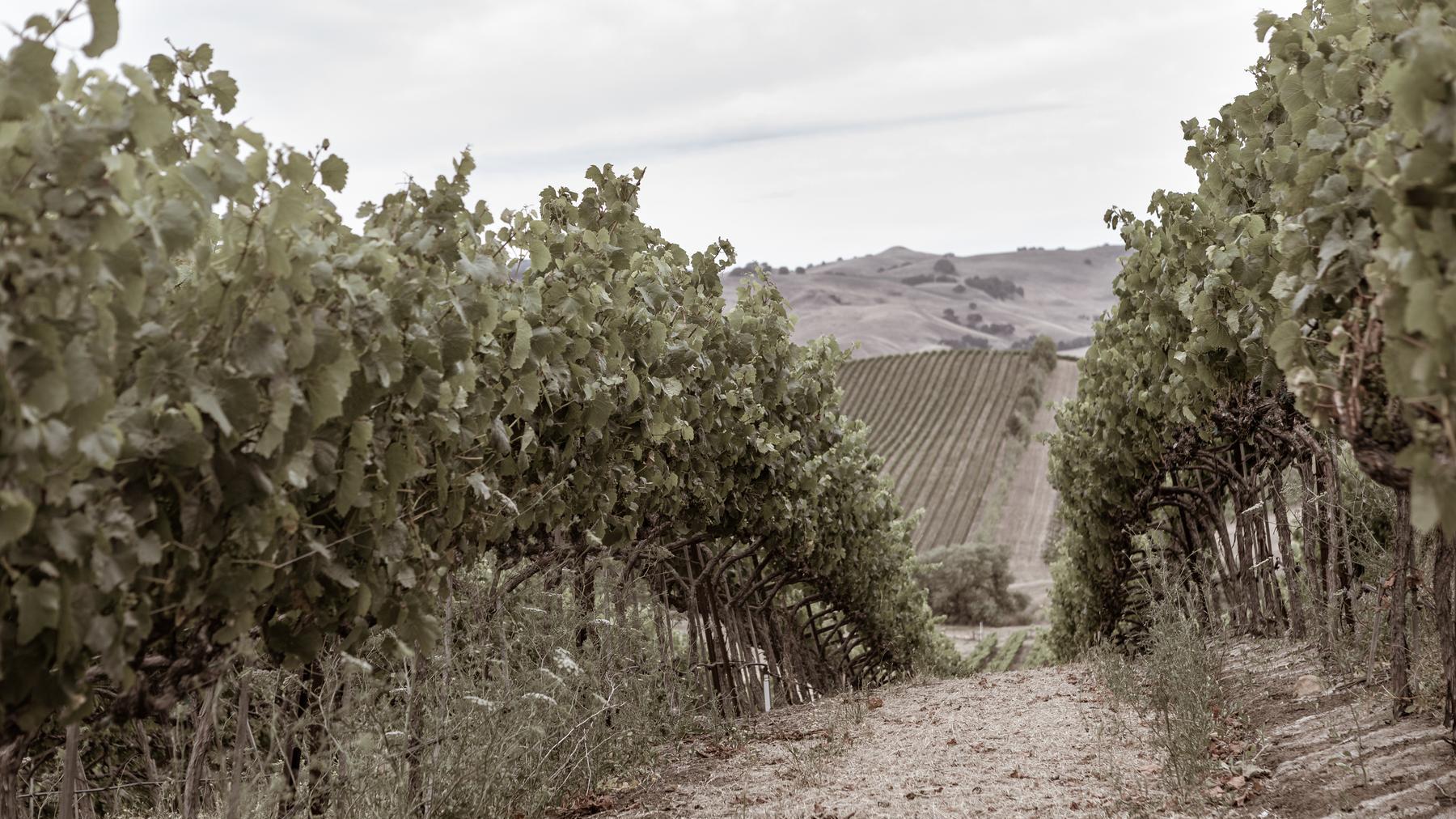 The John Anthony vineyard team is holding fast to a simple mantra this harvest season: "Late is great."
The growing season here in Napa Valley started with an unusually wet winter giving the vines plenty of hydration to get them started. A moderately warm spring and summer followed with minimal heat spikes—giving the vines a slow and gentle ripening window. All the markers (bud break, bloom, and veraison) have been about 2-4 weeks later than usual and that's also where we find ourselves this harvest season. John Anthony's first picks of Chardonnay grapes for the La Dame Michele sparkling program didn't start until mid to late September from the iconic Jameson Canyon. Our still whites—Sauvignon Blanc in historic Church Vineyard and Chardonnay in Carneros Gap followed in early October.
"A long, slow ripening curve like this typically provides excellent physiological ripeness in the fruit, with the flavors, phenolics, and acidity all coming together nicely," says Sander Scheer, John Anthony's Director of Vineyard Operations. "The message from our winemaking team is that they're excited about the flavors they're tasting. The quality is absolutely there if you are patient."
Cabernet Sauvignon occupies the core of the John Anthony portfolio, with six discrete vineyard-designate programs from this noble varietal. Later ripening by nature, our Cabernet harvest strategy is very much a waiting game, carefully monitoring each estate to pick at the perfect ripeness for the specific clone and each vineyard's terroir. For this reason, we anticipate considerable harvest action starting in mid to late October, all of which will be done by hand and overnight when the grapes are cool. The Calistoga Vineyard Cabernet Sauvignon will likely be first, a testament to the northern valley's warmer conditions. Our estates in the cooler Oak Knoll District will come later, with R/D and GnR vineyards likely being the last to be picked.
The longer the harvest season goes, the higher the chances of disruption by stormy weather. This is where John's hard-earned farming expertise comes into play—no matter what Mother Nature brings; our team has the know-how to adapt and maneuver to the best possible outcome. For now, all things are pointing to a banner vintage for our Cabernet Sauvignons and other wines—a fitting reward for the patience and effort that got us here.
After a wet winter and cool spring, things are finally heating up across John Anthony's Napa Valley estates. All signs are pointing to a later harvest and phenomenal grape quality.
The historic rains of 2023 have created healthy, vibrant vine canopies. Bud break and bloom came later than usual, while warm July weather helped keep cluster development on track. Additionally, veraison started a few weeks later than typical, with our Cabernet Sauvignon fruit just now starting to show color. If we extrapolate these trends into fall, we can expect an extended growing season with excellent hang time—especially if we can avoid any October storm fronts.
"If it unfolds as predicted, we will have an excellent vintage on our hands," says Sander Scheer, John Anthony Vineyards Director of Vineyard.
The John Anthony vineyard team is staying busy as we head into the second half of summer. In late July, they spent considerable energy on the process of "leafing"—removing vine leaves to bring dappled sunlight into the fruiting zone. They are now carefully culling clusters from the vines in order to (1) create balanced yields; (2) remove under-ripe fruit; and (3) put the remaining fruit in position to fully ripen.
These tasks require skill, intuition, and insight. Some decisions come down to judgment calls. This is where vintner John Anthony Truchard's more than 30 years of Napa Valley wine-growing experience makes all the difference. He has assembled one of the most talented vineyard teams in the industry.
The excitement for the 2023 vintage extends across our various estates, such as Church Vineyard, Los Carneros AVA; Coombsville Vineyard, Coombsville AVA; and R/D, GnR, Epps, and Crane Vineyards, Oak Knoll District AVA.
With the rains replenishing the groundwater and reservoirs, we could not have asked for a better winter. As long as the weather stays steady, the later growing season will remain in our favor. For our Cabernet Sauvignons in particular–we believe that this could be a vintage for the ages. After 20­­ years, we remain in awe of what the incredible Napa Valley is capable of achieving.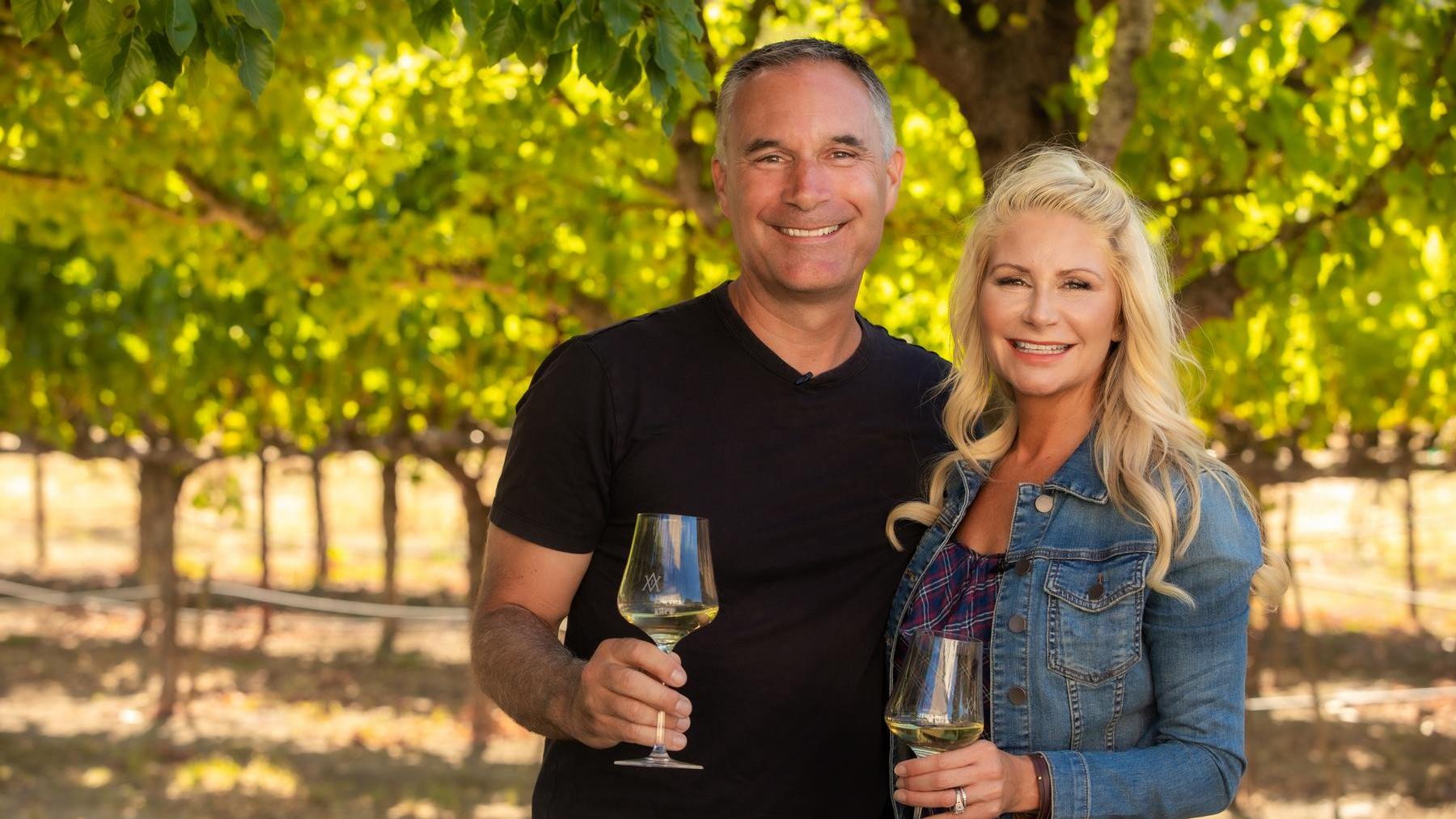 Each year at John Anthony Vineyards, we renew and celebrate our fundraising efforts in support of philanthropic events that positively impact the community and beyond. We proudly announce the upcoming partnerships in the continued celebration of John Anthony Vineyard's 20th anniversary.
John Anthony Vineyards has been an active supporter of the V Foundation for Cancer Research for over 10 years. We are honored to be a part of the 25th year of the V Foundation's Wine Celebration weekend in the heart of Napa Valley on August 3-6, 2023.
John Anthony will bring a taste of the 20th Anniversary Dinner Series to the Rock the V party and concert on August 4, 2023, with special pourings and gourmet pairings including Regiis Ova caviar and Hog Island oysters. Paired alongside exclusive John Anthony wines like La Dame Michele Blanc de Mélange, Sauvignon Blanc from Los Carneros, Reserve Chardonnay, Syrah from Los Carneros, and Cabernet Sauvignon from Napa Valley. All proceeds from this premier wine country fundraiser will benefit the V Foundation for Cancer Research, a non-profit organization founded by ESPN and legendary basketball coach, Jim Valvano, to support cutting-edge cancer research with one collective goal–Victory Over Cancer.
"John and Michele have been long-time supporters of the V Foundation, both at the Wine Celebration and our other events held across the country," said Jane Baer, Managing Director of V Foundation Wine Celebration. "In our milestone 30th year as a foundation and 25th anniversary of the Wine Celebration, we are grateful for their advocacy and generosity as we work to create a world where no one will fear the word cancer again."
John Anthony Vineyards will also support as the Presenting Partner of Harvest STOMP, a beloved fundraising event supporting Napa Valley Grapegrowers and the Napa Valley Farmworker Foundation, taking place on August 26, 2023. Throughout the event, John Anthony will be pouring exclusive John Anthony wines like La Dame Michele Blanc de Mélange, Sauvignon Blanc from Los Carneros, Reserve Chardonnay, and Cabernet Sauvignon from Coombsville.
As STOMP's Presenting Partner, John Anthony Vineyards will dedicate funds, resources, and wines to the event which raises millions of dollars each year to provide education that supports the preservation of ag land and addresses wildfire, water, soil and climate concerns, as well as support and promote Napa Valley's vineyard workers with education and professional development, including adult literacy, management training, and mentorship programs to foster the next generations of industry leaders.
"We're thrilled to have John Anthony Vineyards celebrate their 20th Anniversary at Harvest STOMP as Presenting Partner," said Sonya DeLuca, Interim Executive Director at Napa Valley Grapegrowers. "As grape growers, vintners, and vineyard managers, John Anthony Family of Wines understands the importance of supporting farmworkers and their families, and being an active part of the Napa Valley community."
In addition to sponsoring these philanthropic-focused fundraisers, John Anthony Vineyards will continue hosting a series of intimate dinners to celebrate our 20th Anniversary.
"Giving back to our community has always gone hand in hand with growing the John Anthony Family of Wines portfolio here in Napa Valley," said John Anthony Truchard, Founder and CEO of John Anthony Family of Wines. "It's an honor to expand our partnerships with both the V Foundation Wine Celebration and Harvest STOMP fundraising events whose missions mean so much to Michele and me personally. We hope to only increase our efforts in supporting these incredible organizations for many more years to come."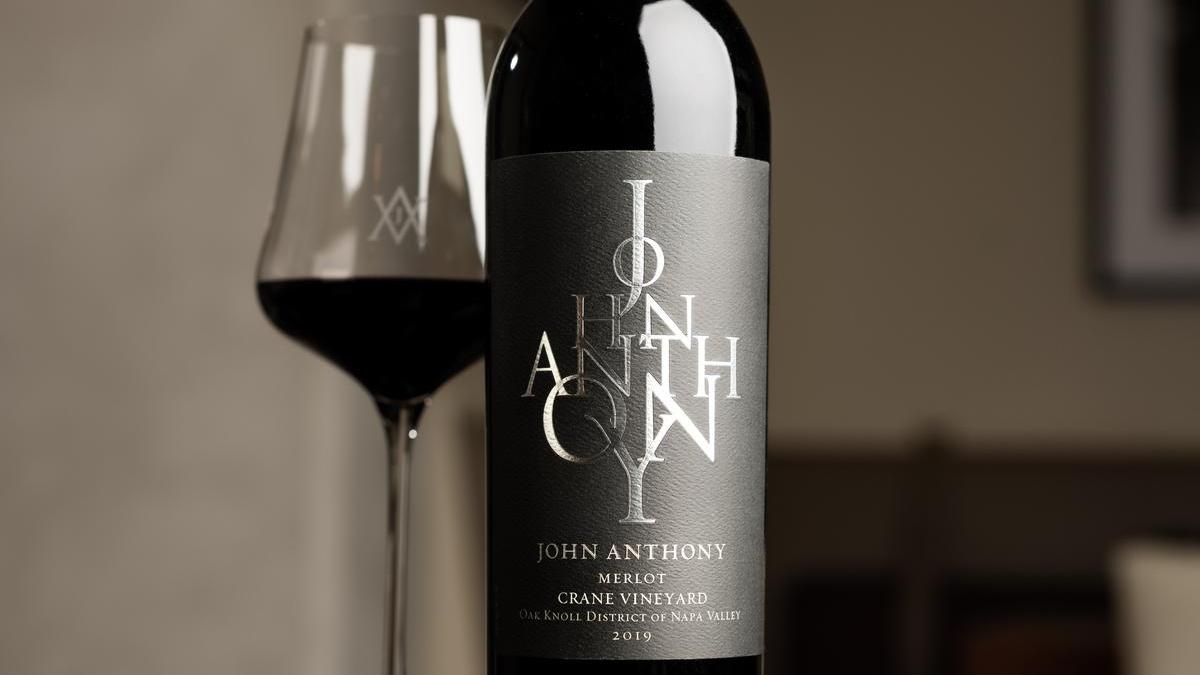 Among the world's most popular red wine varietals, Merlot remains a timeless classic and John Anthony Crane Vineyard Merlot is among the best of the best. This extravagantly textured wine hails from the very first vineyard that John planted. Join us now as we celebrate this enduring John Anthony icon.
The new release 2019 John Anthony Crane Vineyard Merlot is a stunning example of Merlot. Crane Vineyard holds a special place for John, as the four-acres of vines resides on a property long owned by the family of his wife, Michele. With the first Crane Vineyard Merlot vines planted in 1996, this vineyard site ignited John's unwavering passion for Napa Valley's Oak Knoll district. These vines continue to grow in maturity and stature, producing a beautifully structured Merlot that is both velvety and sumptuous.
Elegant, juicy, and bold–John Anthony Crane Vineyard Merlot displays unique qualities characterized by the rich terroir and cool temperatures in the Oak Knoll District of Napa Valley. This French clone varietal was barrel aged for 20 months in 60% New French Oak creating a delicate wine with prominent notes of dark fruit layered with undertones of baking spices and mocha.
A Spotlight on Crane Vineyard
John is now opening his personal library to share earlier vintages of the small-production, sought-after Crane Vineyard Merlot at the next John Anthony Vineyards 20th Anniversary Dinner on Saturday, July 29th. This Michelin-caliber event features farm-fresh seasonal dishes paired with library selections dating back to some of the earliest releases of the Crane Vineyard Merlot. The striking age-worthiness of this Merlot will shine in every glass. This culinary experience is reserved for a maximum of 10 cherished guests amid the incomparable setting of our historic Church Vineyard estate.
You may also acquire a curated library bundle featuring the 2017 through 2019 vintages of the John Anthony Crane Vineyard Merlot—perfect for the cellar of any Merlot connoisseur.
Unmissable Experiences
Adding to the list of unmissable experiences, we extend a warm invitation to save the dates for two upcoming events featuring John Anthony, set to take place during the upcoming summer and fall seasons.
Join us at our Fall Equinox Party on Saturday, September 23rd as we unveil our spectacular collection of Fall Release wines while punctuating this momentous 20th anniversary year.
RESERVE List and ONE List members will be treated to a spectacular celebration on Friday, September 22nd as we share the latest vintages of the hyper-limited John Anthony ONE wines—Chardonnay, Merlot, Syrah and Cabernet Sauvignon.
Finally, our monthly 20th Anniversary Dinner Series will continue into the fall and holiday season, all showcasing rare library selections from John Anthony's heritage estates.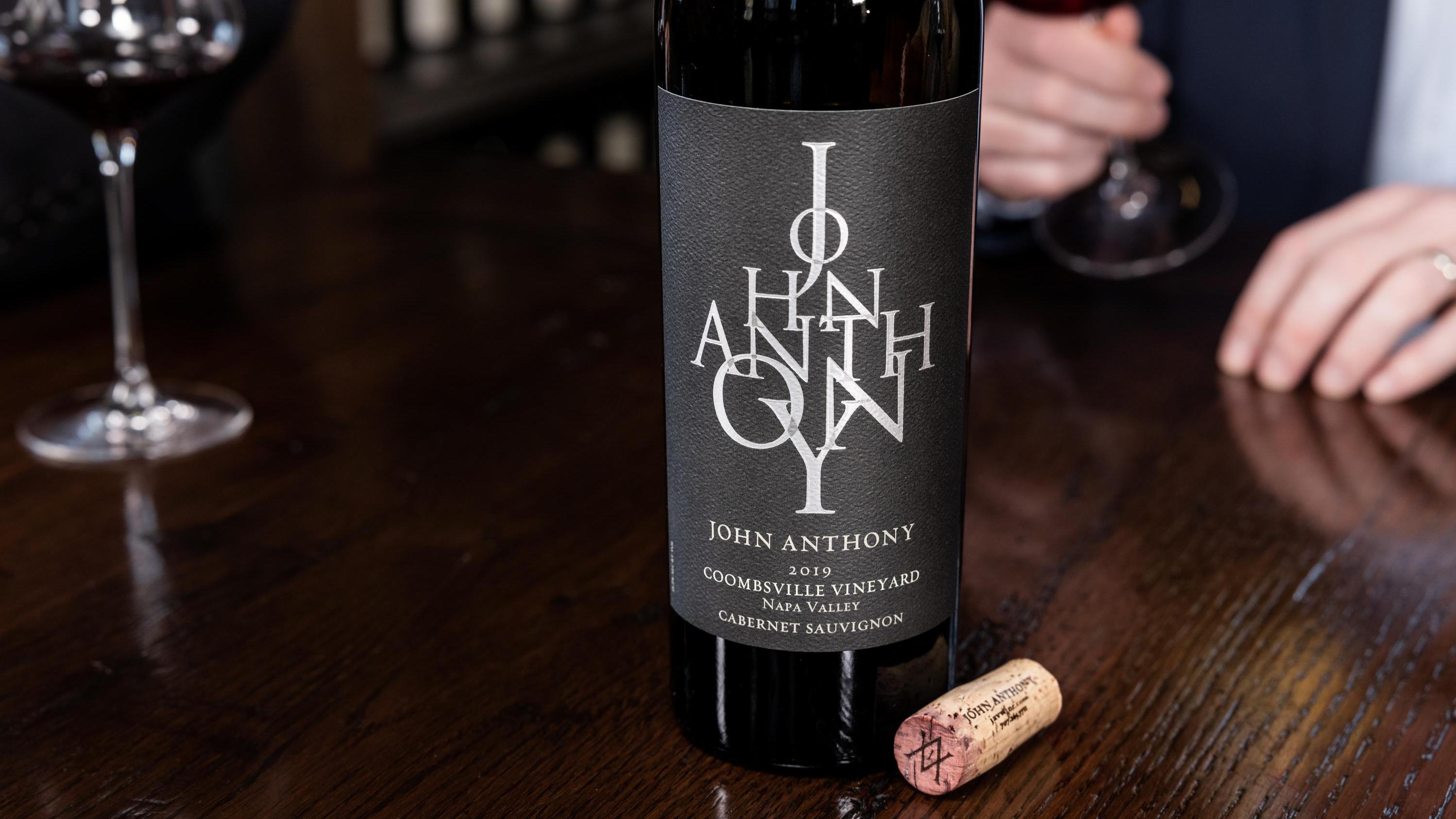 Join us this June as we turn the spotlight on the highly anticipated 2019 John Anthony Coombsville Vineyard Cabernet Sauvignon and its vintage library counterparts.
The 2019 John Anthony Coombsville Vineyard Cabernet Sauvignon lands as one of the single-vineyard gems in our Spring Release collection. John established this four-acre estate before Coombsville was even recognized as a designated AVA—a testament to his pioneering belief in what has become a coveted Napa Valley district.
John is now opening his personal library to showcase earlier vintages of the Coombsville Cabernet Sauvignon at the next 20th Anniversary Dinner, hosted at our historic Church Vineyard estate on June 24. The journey and evolution of our Coombsville Cabernet Sauvignon will come alive in the glass as we treat you to an unmissable Michelin-caliber culinary experience designed exclusively for a maximum of ten guests. The wines will be expertly paired with beautiful farm-fresh seasonal dishes prepared by our Estate Chef, formerly of the French Laundry.
John's vision for Coombsville Vineyard is rooted in Napa Valley tradition. The vines are head trained, spur pruned and dry farmed—a heritage-style of viticulture that presents as wild and untamed and produces expressive, concentrated flavors. These legacy winegrowing methods help the vines conserve energy while protecting the beneficial insects in the Coombsville ecosystem.
The fruits of John's vision are abundant in the new release 2019 vintage, which presents dark, brooding hues in the glass. Deep blackberry, pome and blue fruit aromas are accentuated by notes of dried herbs and graphite. The blue and black fruit impressions continue on the palate, accompanied by blue flowers, pepper and gravelly soil. This cellar-worthy vintage delivers power, depth and well-defined structure on the finish. Only 323 handcrafted cases were produced.
Savor the magic of John Anthony's Coombsville Cabernet Sauvignon dating back to its earliest vintages by reserving your seat at the table for our next anniversary dinner. Immerse yourself in the captivating narrative and rich heritage of these exceptional library wines as the John Anthony team takes you on a journey, making an impression that will last a lifetime. We cannot wait to spend this special evening with you.
​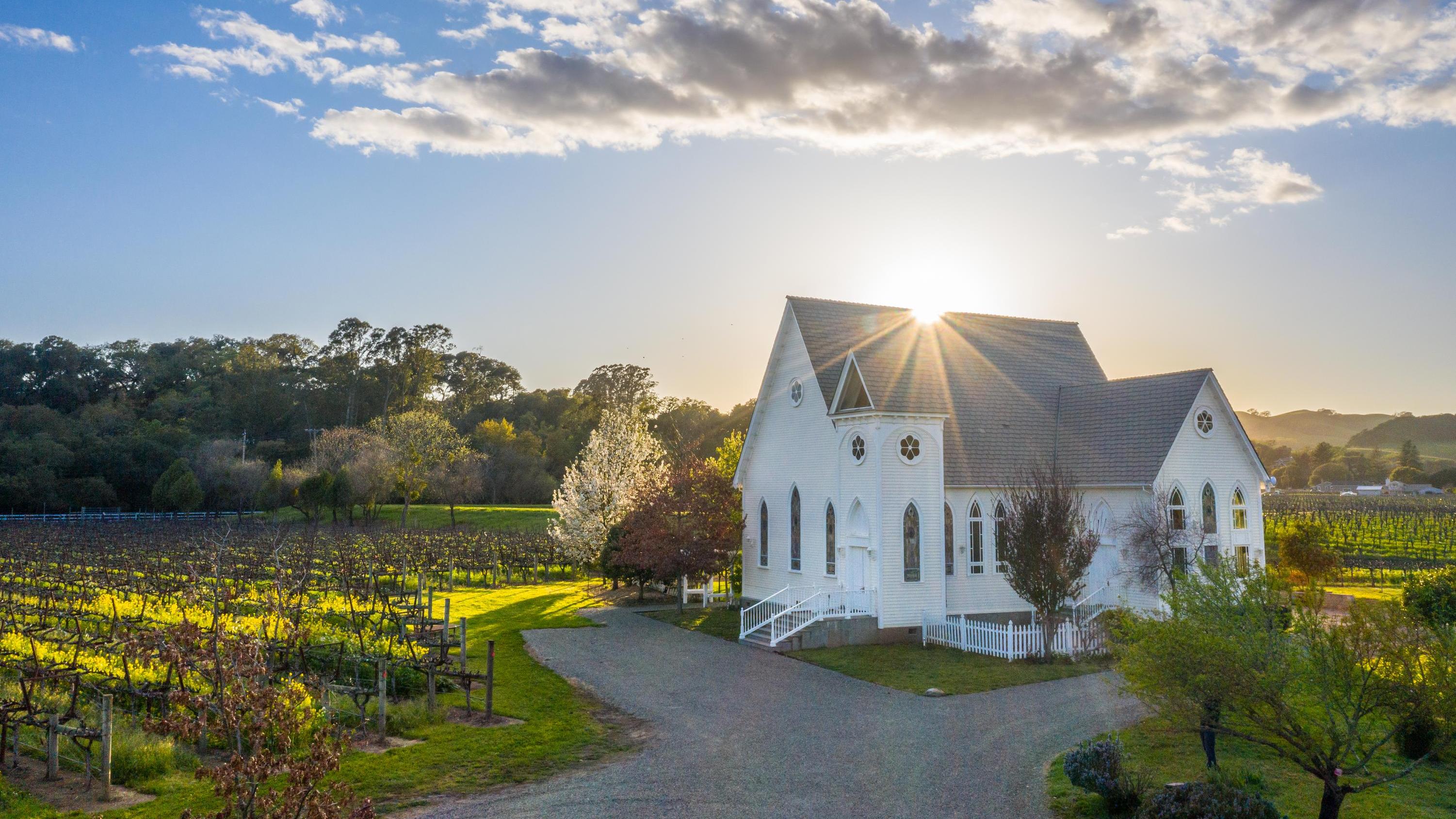 Join John Anthony to commemorate our remarkable 20-year journey with an exclusive culinary series designed to captivate your senses.
The historic Church Vineyard estate sets the stage for guests to gather for an intimate affair of exceptional wine and cuisine beginning May 20th, 2023. Tour our stunning 4-acre hidden gem vineyard that John has been farming since 2003. Once a month, witness the changes of this idyllic setting throughout the growing season: bud break, veraison and harvest for an unforgettable experience.
Mark your calendars for a select Napa Valley experience like no other—each focused on a vineyard, varietal, vertical or vintage that defines the John Anthony portfolio. Each event is limited to ten guests for a truly intimate and memorable evening.
Join us:
• Saturday, May 20th: Showcasing our sought-after Church Vineyard Sauvignon Blancs with some of its vintage library counterparts.
• Saturday, June 24th: The June dinner in our 20th anniversary dinner series will boast our original single vineyard Coombsville Cabernet Sauvignon and its vintage library counterparts.
• Saturday, July 29th: The fifth in this series of dinners will feature our small production Crane Vineyard Merlot and some vintage library selections.
• Friday, September 22nd: The only ONE Dinner in the dinner series, showcasing the very best single barrel Cabernet Sauvignon that we produce – The ONE. This private dinner includes library selections dating back to the inaugural vintages of The ONE, which is a wine that is never poured outside of allocations to our top tier of List Allocation members.
• Saturday, October 21st: Our October dinner will showcase the depth of our incredible Napa Valley Cabernet Sauvignon – including our newest releases, accompanied by some of the inaugural vintages that John produced.
• Saturday, November 18th: The eighth in our 20th anniversary dinner series will feature our cult-classic Syrah, accompanied by features from our Oak Knoll District and micro-production of Crane Vineyard.
• Saturday, December 16th: The ninth and final dinner in our 20th anniversary dinner series will showcase every iteration of La Dame Michele that we have produced. Truly a dream come true for sparkling wine aficionados.
Greeted by the John Anthony wine education and hospitality team with the La Dame Michele Blanc de Mélange sparkling in hand, you'll enjoy a vineyard tour with appetizers before heading inside the stunningly renovated church at the center of the property.
Expert wine and food pairings by our Estate Chef, formerly of the French Laundry, will bring you on your chosen journey of John Anthony's classic Napa Valley wines—each beginning with Sauvignon Blanc grown here at Church Vineyard.
Carefully crafted pairings will heighten the enjoyment of the wines while the John Anthony team shares the provenance of each wine and the inspiration for each course served.
Rounding out the evening, Chef will serve the dessert course paired with John Anthony Late Harvest Sauvignon Blanc produced from Church Vineyards only in those vintages with specific conditions that create this luscious wine.
The John Anthony team is excited to welcome you to this unique celebration. Please enquire at jav@javwine.com or 707-265-7711 to reserve your place.

A Year of Celebrations
In addition to the John Anthony 20th Anniversary Dinner Series, please join us at these iconic wine events, including:
• BottleRock Napa Valley, Platinum Lounge on May 26th in Napa Valley, California: Exceptional Sommeliers and Masters of Wine will host a tasting of John Anthony Signature releases to the soundtrack of incredible world-class musicians.
• Collective Napa Valley Barrel Auction on June 2nd in Napa Valley, California: Join us in support of the broader Napa Valley Community at this auction hosted by Napa Valley Vintners. Bid on a unique John Anthony barrel offering of Cabernet Sauvignon
• FOOD & WINE Classic from June 16th -18th in Aspen, Colorado: Join us under the Grand Tasting tent of the leading US food and wine festival.
• V Foundation Wine Celebration from August 3rd-6th in Napa Valley, California: Proudly sponsoring the esteemed V Foundation in its 25th year.
• Harvest STOMP on Saturday, August 26th in Napa Valley, California. Join us as we celebrate 16 years of raising paddles to protect local agricultural land and support farmworkers through Harvest STOMP.

Please connect with the John Anthony Wine Education & Hospitality team to learn more about the 20th Anniversary Dinner Series and Year of Celebrations events.
Reserve now to join these one-of-a-kind curated Napa Valley experiences.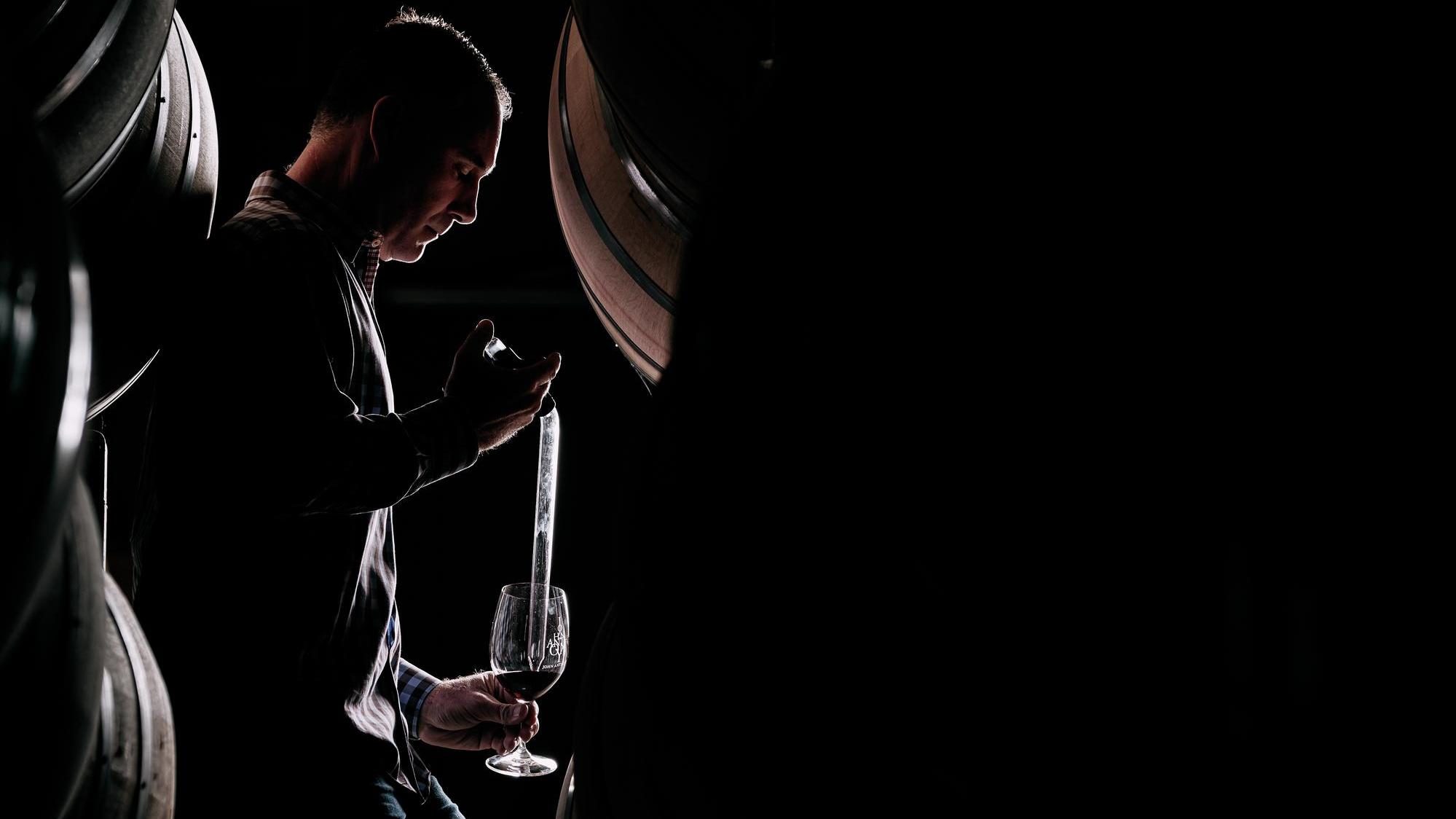 When I moved with my family to Napa Valley in 1974, the world was just discovering its potential. Almost 40 years later Napa Valley's stunning terroir is still preserved and John Anthony Vineyards celebrates 20 years of making wines here. I have so much to be grateful for.
The Napa Valley Ag Preserve 1968 was established just 4 years prior to my family, the Truchards purchasing land here. 1974 was also the pivotal year when Napa Valley wines took the global stage in the now famed Judgment of Paris putting these special 89,000 acres on the map of world-class wine regions. Together with luminaries including Robert Mondavi, André Tchelistcheff, Mike Grgich, Dan Duckhorn, and Larry Hyde, my father Tony Truchard joined the pioneering Napa Valley grape growing community. I grew up helping to farm our vineyards and learning what it takes to grow and craft world-class wines.
In this my 20th year in the wine industry it's a key moment to reflect. John Anthony Vineyards has flourished under the principles and values I inherited—find the absolute best places to grow great wines and be a dedicated steward to the terroir. Terroir is everything that shapes John Anthony wines—selecting hidden-gem vineyard sites; planting the exact right varietal and clone; responding daily to the weather of the vintage; and growing the talent of our team—vineyard management, viticulture and winemaking. It is my privilege to oversee every detail using what I've learned alongside current practices and tools—not only for this year's vintage, but that of the next 20 years.
As part of the next generation to steward Napa Valley, my aim is to pay it forward by emulating those pioneering vintners, especially my father, as well as being a mentor myself. I work proudly and actively in our community with essential organizations such as Napa Valley Vintners; Napa Valley Grapegrowers and Farmworker Foundation; and Winegrowers of Napa County. In celebration of our 20th year you will find John Anthony Vineyards wines poured and auctioned at iconic fundraising events including Collective Napa Valley, June 2nd, V Foundation Wine Celebration August 3rd and Harvest STOMP August 26th. It's an honor and a joy to be able to do what I love every day and I'm humbled by the continuously growing support of our wines these last 20 years and where the next 20 years will bring us. I hope for our team, our wines and our loyal patrons that the best is yet to come.
- John Anthony Truchard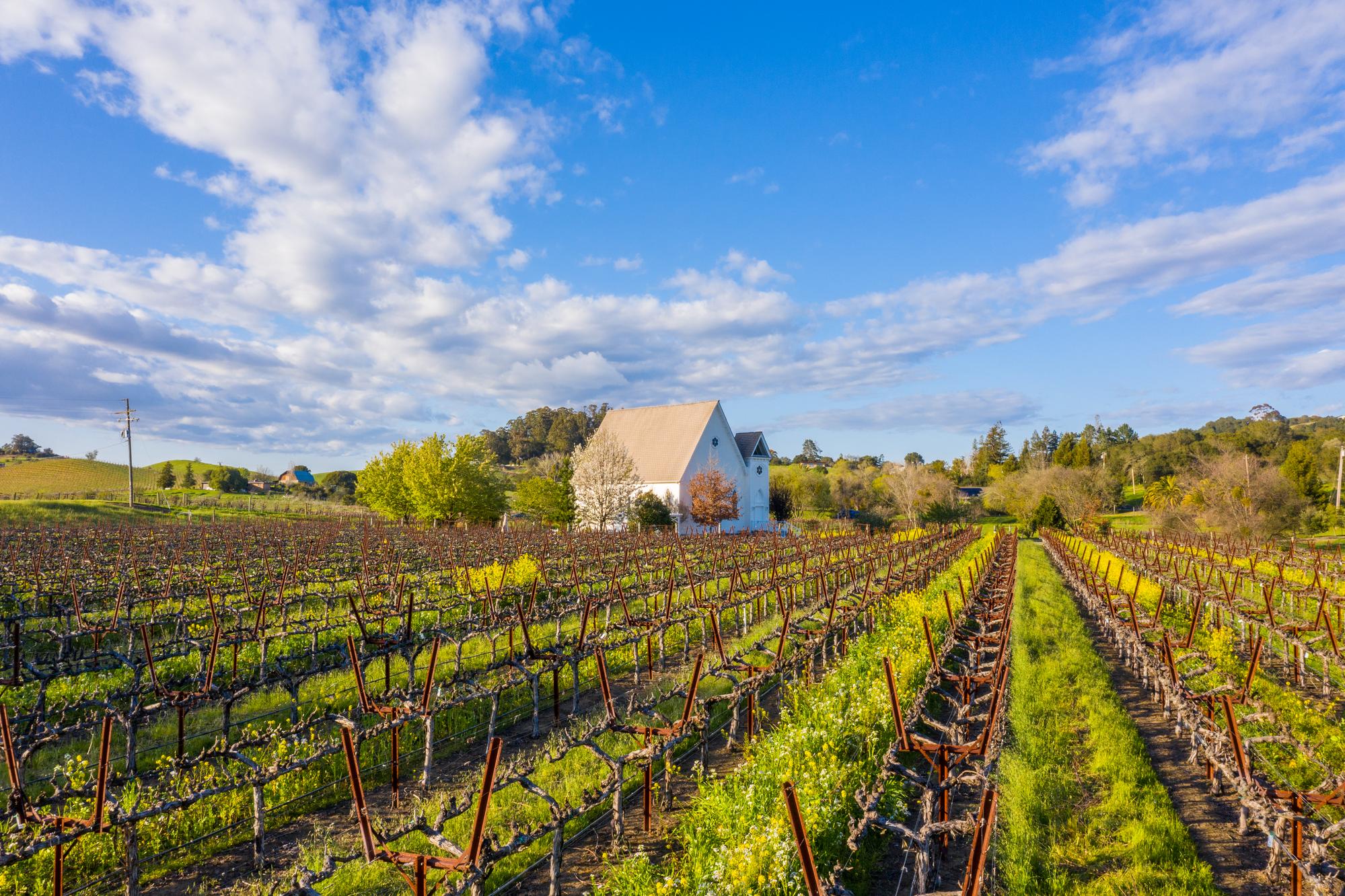 When the recent series of rainstorms blew through Napa Valley, soil erosion was minimal across John Anthony's Napa Valley estates. Careful winter cover cropping and slope management made the difference, a reflection of John's viticultural expertise.
We now enter the new year with an excellent reserve of soil moisture, the likes of which we have not seen since the stellar 2015 vintage.
The rainfall has been a boon to Napa Valley winegrowers, replenishing vineyard soils and water sources across the region. At the John Anthony Vineyards' estates, the high soil moisture has set the pace for the 2023 growing season and expectations for the vintage are already high.
"Field Capacity"
The persistent late December and early January rainstorms in Napa Valley were a welcome sight. In the succinct words of Sander Scheer, John Anthony Vineyards Director of Vineyard Operations at FARM Napa Valley: "It was incredible."
Replenished soils will provide a nourishing resource for healthy shoot growth and excellent canopy development. All of this minimizes the need for supplemental irrigation early in the season.
"It's always great when we can start off like this, with the soil moisture at what we call 'field capacity'—fully saturated," Sander added."You hear a lot about vine stress translating to enhanced fruit quality and concentration, but we're not really interested in stressing the vines until later in the growing season."
All that said, the John Anthony Vineyard team would still like to see additional rain leading up to bud break, which typically starts in mid-March. "Once you get some days in the '70s, especially if it's breezy, things can start to dry out pretty quickly," Sander says.
Erosion Control
Erosion control is something that the John Anthony Vineyard farming team takes seriously, as part of a larger commitment to responsible farming and environmental sensitivity. Persistent heavy rains can put erosion control measures to the test, but the John Anthony estates passed with flying colors this year.
Cover crops are planted every winter, including beans, peas and vetch. Their predominant benefit is to impart natural nutrients to the soil, but they also help control erosion by binding the soil together. Such cover crops are plentiful at our valley floor estates, such as R/D and GnR vineyards in the Oak Knoll District.
Along steeper slopes, such as those found at our Twisted Oak Vineyard in the Oak Knoll District and Carneros Gap Vineyard in the Los Carneros AVA, the vineyard team seeds the ground with perennial grasses, which provide an even stronger erosion-control presence. Finally, they flake out bales of wheat straw in steeper zones of the vineyard, further inhibiting runoff.
All of these measures paid off, making the rainfall a win-win for the John Anthony Vineyards team.
Terroir and Team
In short, John Anthony's 20th anniversary year is off to a banner start, potentially foreshadowing stellar wines from the upcoming 2023 vintage. No matter what Mother Nature brings our way, we are grateful for our farming team's outstanding skills and dedication to growing the best wine grapes possible. Worthy of particular mention is Rene Alejo of FARM Napa Valley, awarded joint first place in the 2023 Napa County Pruning competition. We are proud and grateful for our incredible terroir, this amazing team and the exceptional wines we craft.