Welcome to the John Anthony Vineyard Blog
Now that the 2022 vintage is in the books, we enter into a season of quiet intention.
The intensity of the harvest season may have subsided, but we remain active and excited across all facets of the John Anthony Vineyards experience. We celebrate the accomplishments of another banner year here in Napa Valley, while looking ahead to our milestone 20th anniversary.
In the Vineyard
In the vineyard, this is a time to take stock and prepare for the 2023 growing season to come. The viticulture team has been busy seeding our estates with cover crops, which in time will sprout with luscious green growth along the vine rows. These cover crops will help renew the soils with organic material, imparting nutrients that the vines will draw upon throughout the growing season.
We are also winterizing our vineyards with straw and wattles, which will provide erosion control in the event of heavy rains. Another seasonal task is to clean out the bird and owl boxes that are strategically placed around our vineyards. These boxes attract avian predators that naturally keep troublesome vineyard pests in check.
Additionally, we are looking beyond next year with new Cabernet Sauvignon plantings at our estate R&D Vineyard in the Oak Knoll District. This signature estate planted by John Anthony Truchard in 2002 remains an essential part of our best Cabernet Sauvignon program. These new vines will advance this legacy when they start producing fruit in late 2024.
At the Winery
The last of the fermentation tanks and bins have been emptied, and all of the young 2022 wines have been barreled down.
The 2022 growing season saw steady temperatures until the arrival of a sustained early September heat wave that had every winemaker on their toes from Napa Valley down through the Central Coast.
"For our whites and mid-season reds like Syrah and Merlot, we saw great flavors early on at lower maturity levels," said John Anthony Winemaker Jeff Kandarian. "The heat wave hurried our later-ripening varieties, including Cabernet Sauvignon. This can be troubling, but after tasting through several barrels they are evolving really well already. We are seeing excellent color and concentration in the reds."
Looking Ahead
The end of this year is now punctuated with an exclusive landmark release from John Anthony—the 2017 La Dame Michele, Single Vineyard Blanc de Blanc.
La Dame Michele is the classic mark of John Anthony's handcrafted sparkling wine program, inspired and led by John's wife Michele. Now comes the 2017 La Dame Michele Single Vineyard Blanc de Blanc, our first estate-grown, single-vineyard release. This elegant Blanc de Blanc spent a remarkable five years en tirage. Born of the standards practiced by the great Champagne houses, this sparkling wine is ethereally bright and light with rich, creamy undertones. It has exceeded all expectations, and is now available on a first-come luxury allocation basis for those that truly appreciate exceptional sparkling wines
This wine signals the celebrations to come in 2023—most notably our 20th anniversary year since the founding of John Anthony Vineyards.
John Anthony LIST members and supporters can expect a spectacular year of events, experiences and products accessible here in Napa at our estate properties and out on the road. We look forward to announcing these in January, along with spring and fall release dates.
Join us—we cannot wait to share all that John Anthony has in store for 2023.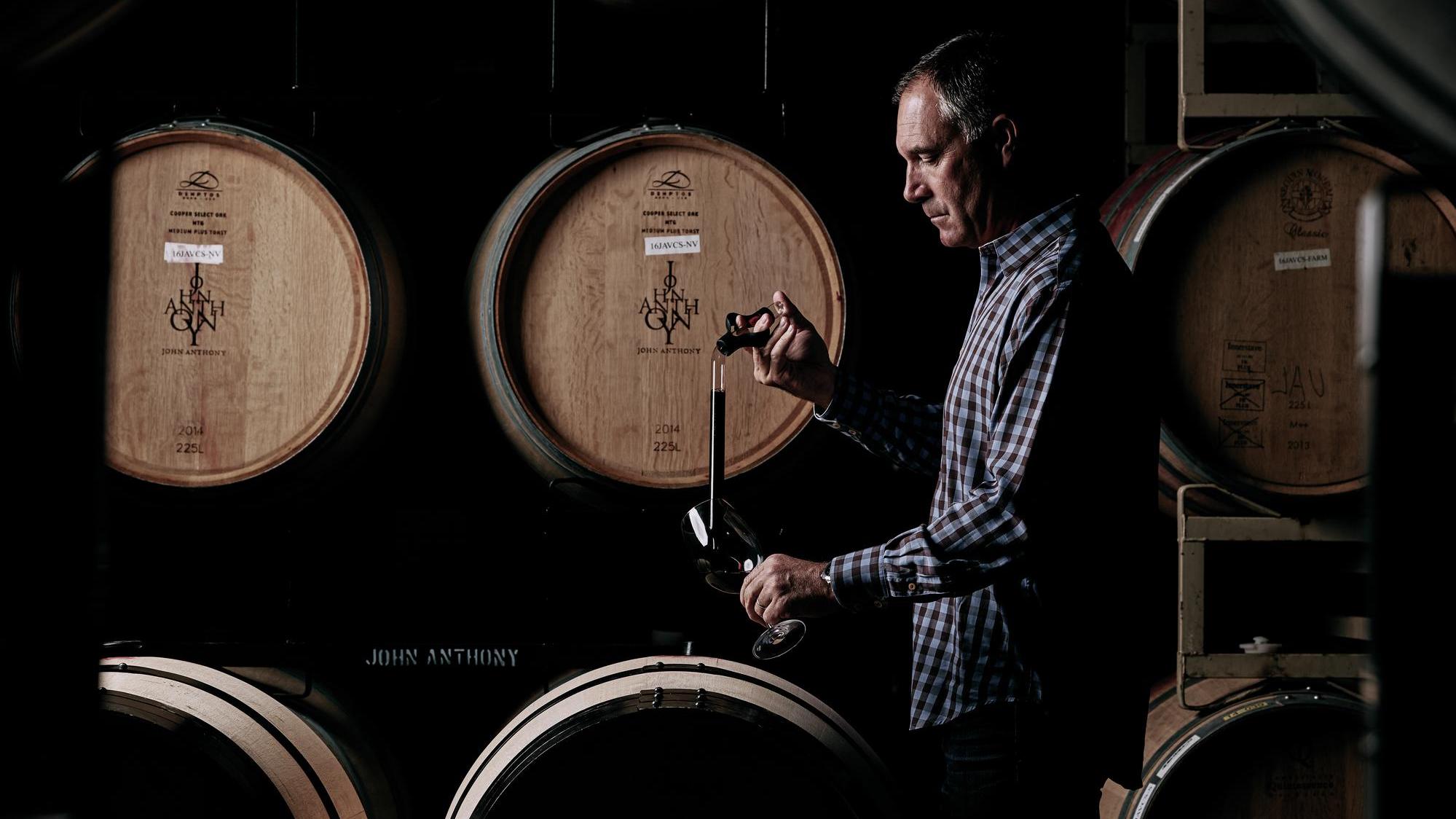 A Varietal Legacy
As we draw near to the 20th anniversary year of John Anthony Vineyards, we reflect on the signature grape varietal that is not only synonymous with Napa Valley, but also with our handcrafted wines: Cabernet Sauvignon.
Patience & Vision
Our story begins when second-generation Napa Valley winegrower John Anthony Truchard struck out on his own to create an exclusive namesake boutique winery. His quest was founded on vision and patience—two qualities that he'd always admired in the region's great winemaking pioneers, including Robert Mondavi, André Tchelistcheff, Mike Grgich, Dan Duckhorn Larry Hyde and his father Tony Truchard.
John knew this would not happen overnight. And although his vision was clear, resources were limited. The first step came when John leased Twisted Oak Vineyard, the first of what would ultimately become four John Anthony Cabernet Sauvignon estates in the Oak Knoll District.
With just six acres of vines nestled on the steep hillside of Mount Veeder, Twisted Oak's terroir provided everything John needed to produce a quintessential hillside Napa Valley Cabernet Sauvignon. Here, sun exposure varies with the contours of the land, imparting natural inflections to the fruit. The soil is clay loam over fractured shale. Yields are naturally moderate; small berries deliver purity of fruit, aromatic complexity and broad structure.
With the acquisition of Twisted Oak Vineyard, John's new calling became tangible, with Cabernet Sauvignon leading the way.
Essential Estates
Cabernet Sauvignon was a natural focal point for John from the start: the global "king of varietals," and the calling card of Napa Valley the world over.
Working on his family's wine estate in Carneros, John had personally witnessed Napa Valley Cabernet Sauvignon's ascent to the upper echelons of world-class wines. John's vision included putting his own stamp on this noble varietal, his name on the bottle and creating a following for "John Anthony Cabernet Sauvignon." The very first vintage received a 93-point rating by Wine Spectator—the wine sold out quickly and so the John Anthony Vineyards journey began.
Coombsville Vineyard followed Twisted Oak as John's next first-growth Cabernet Sauvignon estate. He saw immense potential in this tiny four-acre site years before the Coombsville sub-AVA was officially recognized. Here, John chose to practice "dry farming" without supplemental irrigation. This prompts the vine roots to run deep in search of moisture, ultimately creating more minerality in the wine.
Following in the footsteps of the Valley's original winegrowers, John also head-trained the vines to help them conserve energy for the long slow growing season for which this nested AVA has become known. This form of trellising allows the vines to collect more energy from the sun. Together, dry farming and head training help balance all aspects of the terroir, producing judiciously stressed vines whose fruit is rich, complex and expressive of place.
Today, John Anthony's Cabernet Sauvignon estates also include Calistoga Vineyard, Epps Vineyard, GnR Vineyard and R/D Vineyard. Collectively, these estates serve as the foundation of the John Anthony experience, all grown to John's meticulous standards and vision.
Handcrafted Exclusives
Each year, these Cabernet Sauvignon estates produce John Anthony's most coveted luxury, fine wines: the small-batch vineyard designates; the ultra-limited John Anthony Reserve composed of the best Cabernet lots from each vintage; and the pinnacle of our Cabernet Sauvignons, "The ONE." This singular Cabernet Sauvignon is handcrafted from just a single barrel deemed to be the finest of them all. "The ONE" is an estate exclusive available only on allocation to LIST members.
Napa Valley's Cabernet Season
As the vines become dormant, the weather cools and the evenings draw in, the recent vintage Cabernet Sauvignons are finishing up their fermentations and extended macerations. Locally we call this "Cabernet Season," and it is the perfect time to visit the John Anthony Tasting Lounge in downtown Napa, and to taste our extensive Cabernet portfolio during this signature Napa Valley season.
Experience the world of John Anthony Cabernet Sauvignon—a legacy now 20 years in the making.