November 13, 2023 | John Anthony Vineyards
Festivities at the John Anthony Tasting Lounge, Napa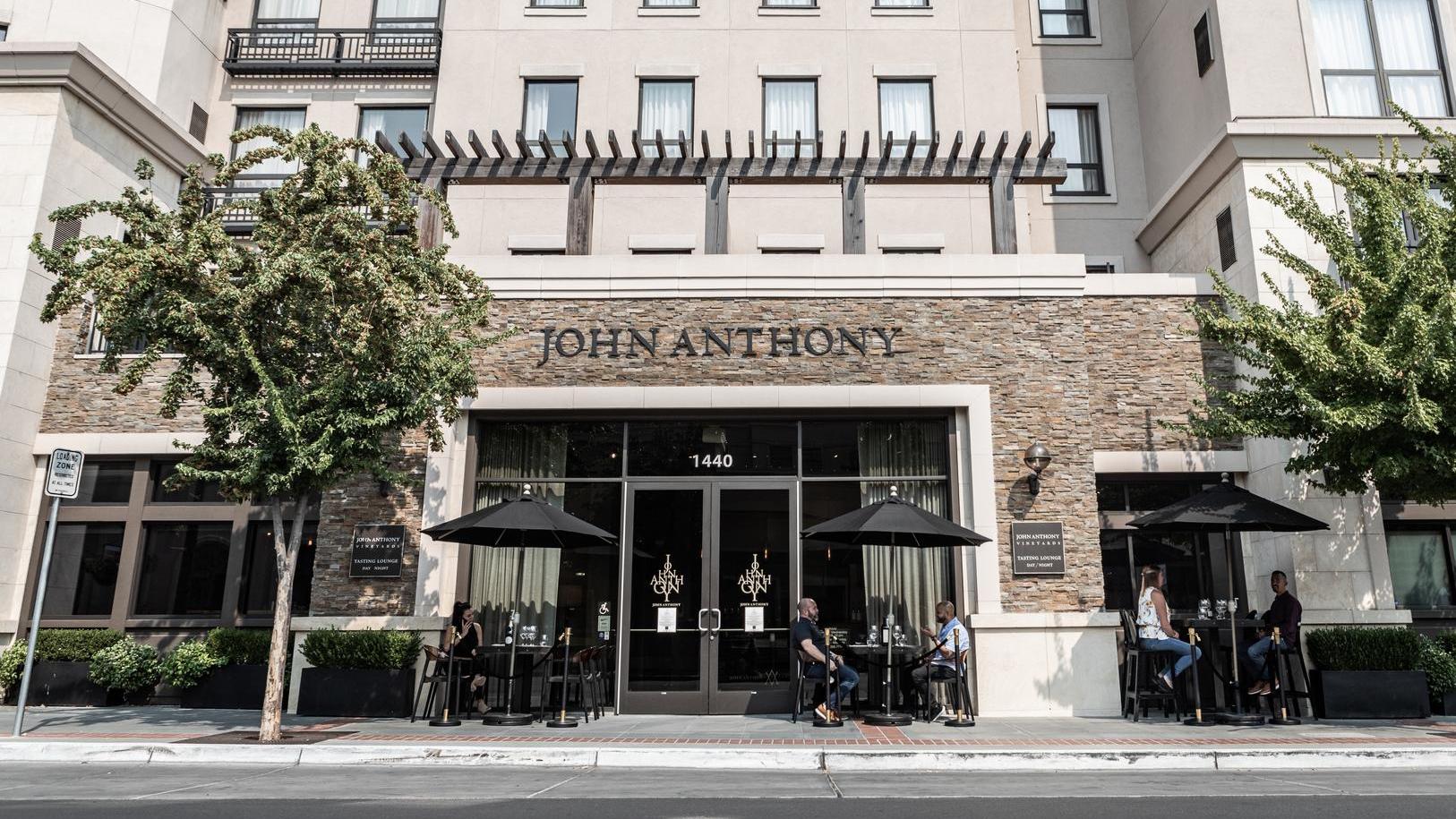 Following a busy and successful harvest, the John Anthony team is ready to celebrate the season. Please join us.
Napa is especially festive this time of year—a bustling downtown lights up darker chillier evenings. The John Anthony Tasting Lounge in the heart of downtown becomes a destination for locals and guests to enjoy the Cabernet Season and the Holidays that grace this time of year. This year we have curated our portfolio of wines into three rich and festive experiences that celebrate our heritage, estate winegrowing, and meticulous winemaking:
Cab is King Tasting
Cabernet Sauvignon is renowned in Napa Valley. Two decades of dedication to this noble varietal has awarded John Anthony an exemplary collection of this "king of wines"—all 100% Cabernet Sauvignon, small-lot, handcrafted wines. The Cab is King Tasting highlights the nuance of the vineyard and vintage Cabernet Sauvignon. First, enjoy a library "vertical" of Napa Valley AVA-designate Cabernets from the exceptional 2017 to 2019 vintages. This is followed by a "horizontal" flight of 2019 vineyard-designate Cabernets sourced from three of our estates from across the Valley.
Family of Wines Tasting
John Anthony Vineyards is the first label started by vintner, John Anthony Truchard. Venturing further afield to Sonoma Coast, Russian River, and Paso Robles, John sought out pockets of terroir to produce an expanded collection of releases. Weather Wines is a collection of Burgundian-varietal releases sourced from microclimates perfect for growing these sensitive and expressive grapes—Pinot Noir and Chardonnay. Wishlist was John's first foray into Paso Robles—taking advantage of the bio-diverse terroir of the region with a rosé of Tempranillo and Syrah. The tasting begins with the 2021 Wishlist Rosé, Paso Robles—bright and fragrant. Next take a journey through the expansive Sonoma County AVA with Weather Wines: 2020 Weather Sonoma Coast Chardonnay; enjoy side-by-side 2020 and 2021 vintages of Weather Sonoma Coast Pinot Noir; and finish up comparing the 2018 and 2019 Weather Chenoweth Vineyard Russian River Valley Pinot Noirs.
Caviar and Bubbles
There are select pairings that are undeniably festive. John Anthony's new partnership with The Caviar Co. takes this festive indulgence to new heights. Premier sustainable Kaluga hybrid caviar is presented decadently alongside the La Dame Michele sparkling wine program by John Anthony. A flight of three unique sparklings will be poured culminating in the ultra-limited, estate-grown 2017 La Dame Michele Single Vineyard Blanc de Blanc. Enjoy each luscious sip and bite paired with accoutrements to complement: A sidecar of kettle chips presented with house-made French onion dip garnished with fried shallots, pickled red onions, and onion powder.
The John Anthony Vineyards Tasting Lounge is the only downtown Napa tasting lounge to stay open late daily, until 10 p.m. on weekdays and midnight on Thursday through Saturday. Join us during the holiday season and experience the magic of the Holidays in Napa.
Comments
Commenting has been turned off.