July 11, 2023 | John Anthony Vineyards
Crane Vineyard Merlot: A John Anthony Icon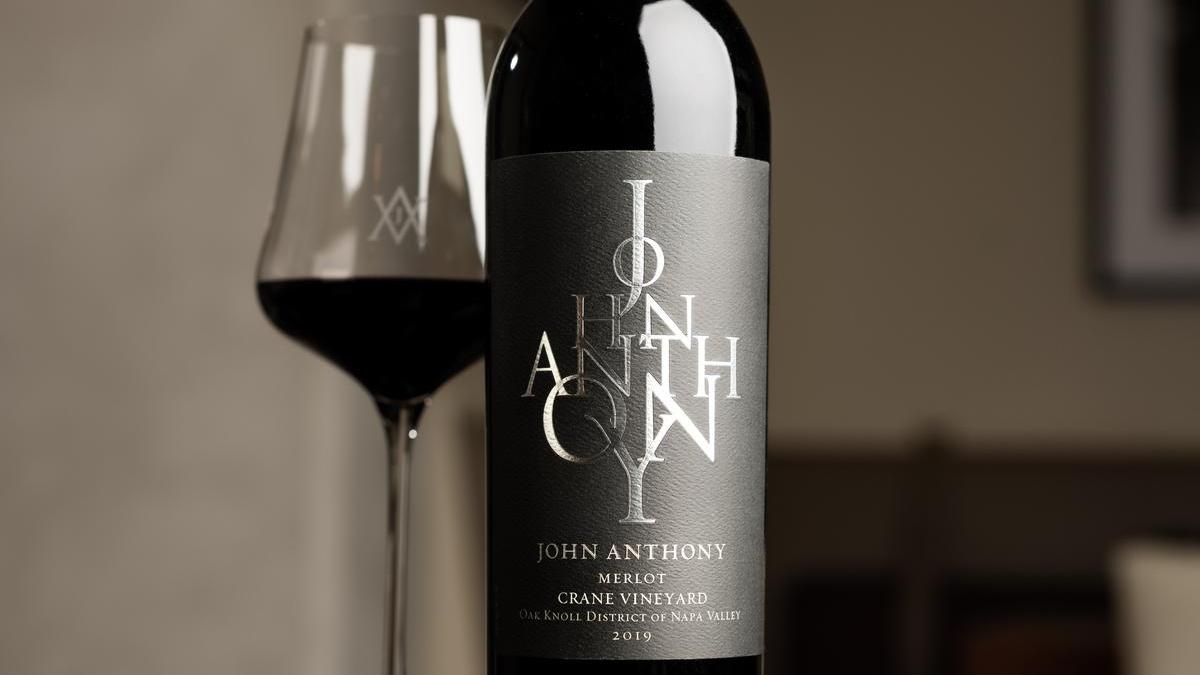 Among the world's most popular red wine varietals, Merlot remains a timeless classic and John Anthony Crane Vineyard Merlot is among the best of the best. This extravagantly textured wine hails from the very first vineyard that John planted. Join us now as we celebrate this enduring John Anthony icon.
The new release 2019 John Anthony Crane Vineyard Merlot is a stunning example of Merlot. Crane Vineyard holds a special place for John, as the four-acres of vines resides on a property long owned by the family of his wife, Michele. With the first Crane Vineyard Merlot vines planted in 1996, this vineyard site ignited John's unwavering passion for Napa Valley's Oak Knoll district. These vines continue to grow in maturity and stature, producing a beautifully structured Merlot that is both velvety and sumptuous.
Elegant, juicy, and bold–John Anthony Crane Vineyard Merlot displays unique qualities characterized by the rich terroir and cool temperatures in the Oak Knoll District of Napa Valley. This French clone varietal was barrel aged for 20 months in 60% New French Oak creating a delicate wine with prominent notes of dark fruit layered with undertones of baking spices and mocha.
A Spotlight on Crane Vineyard
John is now opening his personal library to share earlier vintages of the small-production, sought-after Crane Vineyard Merlot at the next John Anthony Vineyards 20th Anniversary Dinner on Saturday, July 29th. This Michelin-caliber event features farm-fresh seasonal dishes paired with library selections dating back to some of the earliest releases of the Crane Vineyard Merlot. The striking age-worthiness of this Merlot will shine in every glass. This culinary experience is reserved for a maximum of 10 cherished guests amid the incomparable setting of our historic Church Vineyard estate.
You may also acquire a curated library bundle featuring the 2017 through 2019 vintages of the John Anthony Crane Vineyard Merlot—perfect for the cellar of any Merlot connoisseur.
Unmissable Experiences
Adding to the list of unmissable experiences, we extend a warm invitation to save the dates for two upcoming events featuring John Anthony, set to take place during the upcoming summer and fall seasons.
Join us at our Fall Equinox Party on Saturday, September 23rd as we unveil our spectacular collection of Fall Release wines while punctuating this momentous 20th anniversary year.
RESERVE List and ONE List members will be treated to a spectacular celebration on Friday, September 22nd as we share the latest vintages of the hyper-limited John Anthony ONE wines—Chardonnay, Merlot, Syrah and Cabernet Sauvignon.
Finally, our monthly 20th Anniversary Dinner Series will continue into the fall and holiday season, all showcasing rare library selections from John Anthony's heritage estates.
Comments
Commenting has been turned off.