Our Story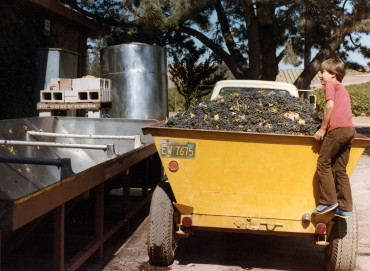 John with freshly picked fruit.
The four hour drive from Reno to the Napa Valley in the back of the Chevy Blazer was fun from the beginning for a young John Anthony Truchard. His biggest concern was getting to the family vineyard in Carneros in time to watch "Dukes of Hazard". He would make the trip each weekend with his family and everyone had their responsibilities. The girls, John's Sisters and Mother would prepare the trailer and organize for the weekend while the boys, John, his Brother, and Father would prepare soils, irrigate, and tend to the vines.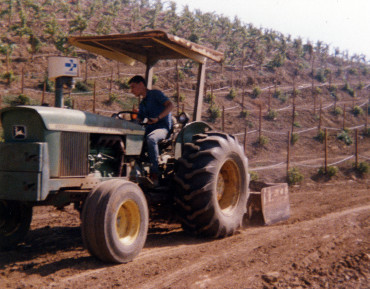 John working on the tractor.
When you grow up with the Carneros soil under your fingernails you're bound to have met a few people along the way. From a young age John learned farming techniques from some of the most notable names in the Napa Valley. Andre Tchelistcheff, Mike Grgich, Joe Heitz, Larry Hyde, Dan Duckhorn, John Williams, Larry Turley, Herb Lamb, and of course his father Tony Truchard, all influenced the vintner John has become.

John preparing to plant.
Today John owns a successful vineyard management company, which custom planted and farms each and every vineyard for the John Anthony brand. He blends state of the art farming practices with the knowledge passed down from pioneering farmers of years past. This history in farming and new school technique is at the core of John Anthony Vineyards. Our advantage in farming is not only years of experience but having multiple locations throughout the Napa Valley. Each of our vineyard sites were meticulously selected because of their unique microclimates, soil types, and sun exposures.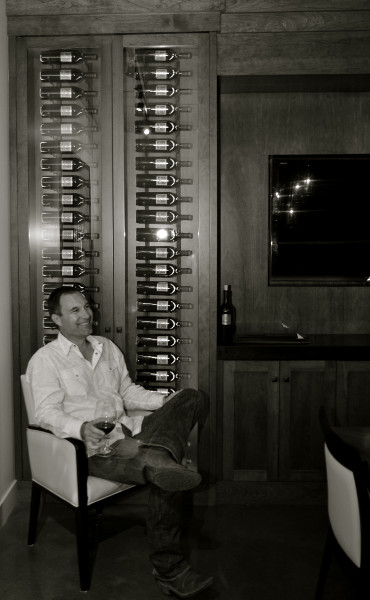 John in the Reserve Room enjoying a glass.
From the time he was young John has dreamed of being where he is today. His goal is to create amazingly balanced wines that drink well now and will last for years to come. He pairs these wines with best-in-class customer service, incredible experiences, and gives each customer the feeling that they are part of the family.