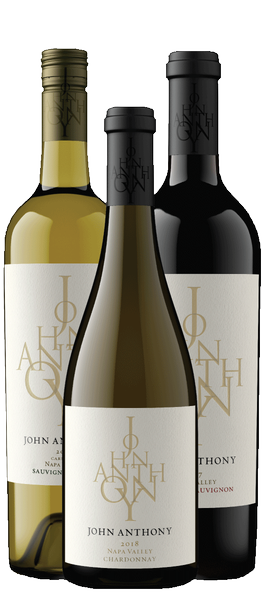 John Anthony - V Foundation 3-pack
John Anthony Vineyards is built on heritage, winegrowing and winemaking. Vintners and Founders Michele and John Anthony Truchard have been active supporters of the V Foundation Wine Celebration for over 10 years. As this year's Vintner Grant Honorees, John and Michele join Chad and Sage Steele to taste through a personally curated selection of their small-production, estate wines.

This collection will be available as a special 2020 V Foundation Wine Celebration Tasting Package, exclusively available to our supporters. 100% of proceeds from the collection will be donated to support V Foundation's mission to finding a cure for cancer through research.

2018 John Anthony Napa Valley Sauvignon Blanc
Sourced from John's stunning Church Vineyard in Carneros, planted with the Western and Musqué clones. This sauvignon blanc is bright with rich tropical notes of grapefruit and honeydew with subtle jasmine aromatics.

2018 John Anthony Napa Valley Chardonnay
Sourced from Clarke Vineyard's rolling hills overlooking San Pablo Bay in southern Napa Valley, planted with the hybrid Robert Young clone. This chardonnay is rich and expansive with a lingering vanilla finish.

2016 John Anthony Napa Valley Cabernet Sauvignon
Sourced from some of John's oldest estates throughout the Valley—as far north as Calistoga and Coombsville to the south. This cabernet sauvignon has rich dark fruits, broad firm structure, and smooth supple finish. It continues to bear the standard for John Anthony.
Product Reviews
Wendy Wilder Steele
(Jul 2, 2020 at 11:57 AM)
All three of these wines are AMAZING! A perfect trio for the Summer months!
The Sauv Blanc was the best I've ever had. Usually, sauv blancs are too light for me, but this Sauv Blanc is a tropical full-body blend of sunshine...perfect for Summer!
The John Anthony Chardonnay has always been a fan favorite of ours. Goes well with ANY meal! The John Anthony Chard is a "staple" in our house!
But the crown award goes to the Cab! At first taste, we are amazed how it is an instantly smooth, ready-to-drink, full-bodied glass of happiness! Needs NO time to breath!
By far, best TRIO you can buy!
Kudos to the TRUCHARDS for donating all the proceeds to Jimmy V. A win-win!!!