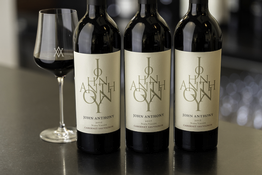 Napa Valley Cabernet Sauvignon 3-pack
This 3-pack includes one bottle each of 2016, 2017, and 2018 John Anthony Napa Valley Cabernet Sauvignon
2016 John Anthony Napa Valley Cabernet Sauvignon
"Mixed berry aromas with plum and dark currant. Hints of black licorice and sweet herbs. On the palate, the wine is rich and broad with firm structure balanced by a supple finish. Blackberry and Cassis flavors dominate with the support of five spice and a high mineral tone. This classic Napa Valley Cabernet Sauvignon continues to bear the standard for John Anthony. It can be enjoyed immediately and for the next 15 years to come."
2017 John Anthony Napa Valley Cabernet Sauvignon
"Sumptuous, aromatic red and black fruits abound in this classic Napa Valley cabernet sauvignon. The palate is rich, dense and chewy with wonderful tannin structure and layers of dark cherry and cassis. A vigorous finish leaves notes of muddled dark fruits and mocha overtones."
2018 John Anthony Napa Valley Cabernet Sauvignon
"This dense ruby-hued cabernet sauvignon leads with wildly-aromatic black and red currants and floral notes of violet, lavender and rose. Cracked pink peppercorn and savory spices give further depth to the aromatics. On the palate sumptuous blackberries and ripe Bing cherries meld with hints of kola nut, cordovan leather and dark mole. Wonderful tannin structure carries decadent layers of chocolate raspberry cake and crème de cassis into a long, lingering finish."